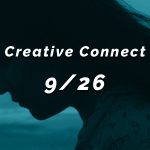 Creative Connect
Creative Connect, a monthly meet up hosted by The Parlor and NOVAC:BR, exists to create a space for the Louisiana creative community to be inspired to dream bigger and execute projects together.
The Parlor is located at 705 St. Joseph St, Baton Rouge. Creative Connect is every last Tuesday of the month. As always, we provide free beverages and good company.
This month on Tuesday 9/26 from 7pm-9pm, we are pleased to welcome spoken word artist, Donney Rose and local filmmakers of the forthcoming short film, JANE.
DONNEY ROSE:
Donney Rose, a Baton Rouge native and active member of the city's poetry scene, has been performing spoken word and facilitating spoken word events for over a decade. He works as a teaching artist  and marketing director for an arts-based non-profit, Forward Arts Inc.  Donney has recorded three spoken word CDs and is the author of the chapbook, The Crying Buck (Next Left Press).  His work has been featured on, Atlanta Black Star.com , Blavity.com Button Poetry, All Def Digital and in online journals Drunk In A Midnight Choir Nicholls State's Gris Gris literary journal. He holds a B.S. in Business Marketing degree from Southern University.
Donney will be sharing work from Black Out Loud, his recently published collection of prose-style poetic interpretations of Black History Month 2017.
JANE:
JANE is a short film that acts as a lens into the multi-racial experience in America and the identity struggles that often ensue. Written by Cat Miguez and Abe Felix, it is set to be filmed locally soon. Abe & Cat will discuss their own experiences both with the issues presented in the film and with creating media locally.
Cat graduated from UL in Lafayette with a B.A. in Moving Image Arts and a minor in Business. Since then, she has been working at Baton Rouge-based video production company, Launch Media, as an Associate Producer and Post Production Coordinator. However, ever since she was a young girl, she has always aspired to act. Jane will serve as Cat's first starring role as an actor.
Abe is an award-winning director and DP based in Baton Rouge and New Orleans. His background in writing and editing for print and television birthed his passion for visual storytelling. To him filmmaking is a platform for saying things that truly matter, and he carries this responsibility into his craft.
http://novacvideo.org/event/br-creative-connect-926/