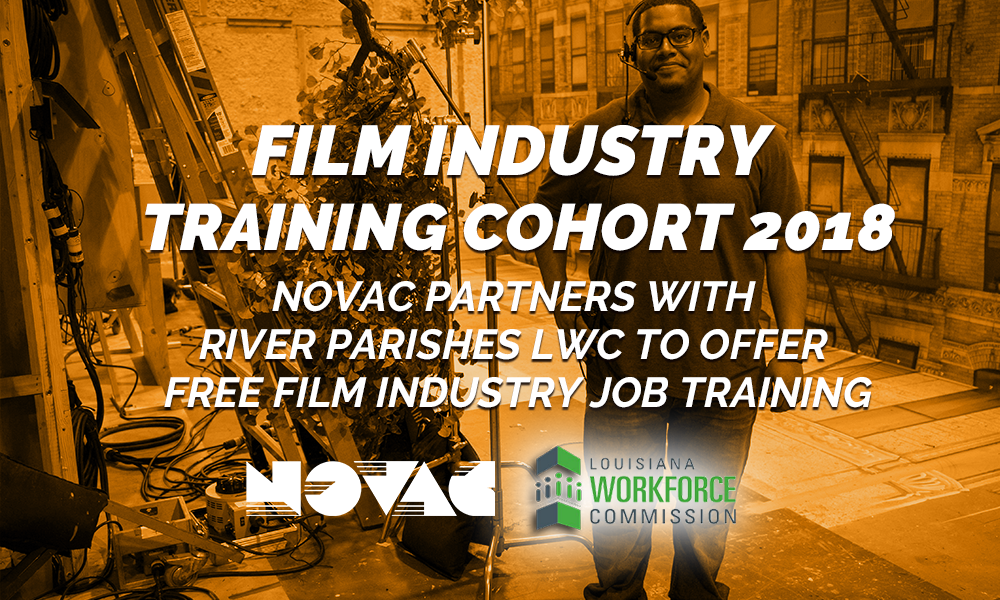 2018 Film Industry Job Training with River Parishes LWC!
Take the first step towards starting your career in the film industry by joining NOVAC and the Louisiana Workforce Commission, River Parishes Region, for one of our FREE upcoming workshops!
NOVAC is partnering with the Louisiana Workforce Commission to offer free film industry job training for residents of the Greater New Orleans Metro area.  After an initial set of info sessions in Luling, in January 2018, the LWC is seeking to develop a cohort of 30 residents who are interested in receiving free job training for jobs in the film industry.  These residents will be part of a cohort of folks going through a variety of film industry trainings throughout 2018, with workshops, trainings, internships and job placement support.
WHO:  Residents of Orleans, Jefferson, St. Bernard, St. Tammany, Plaquemines, Lafourche, Terrebonne, St. John the Baptist, St. James, St. Charles and Tangipahoa parishes.
NEXT STEPS: Complete the eligibility packet, downloadable here, and return to your regional LWC office.  You can find the addresses of those offices here.  Make sure they know you're interested in the Film Industry Training Cohort!
WHEN: Please complete your eligibility packet and return to a LWC office before February 20, 2018.  Trainings in Spring 2018 will be scheduled once a cohort of 30 has been established!